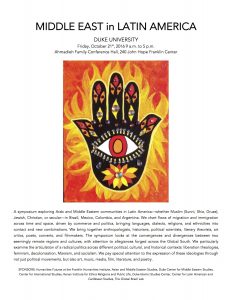 MIDDLE EAST in LATIN AMERICA
DUKE UNIVERSITY
Friday, October 21st, 2016 9 a.m. to 5 p.m.
Ahmadieh Family Conference Hall, 240 John Hope Franklin Center
A symposium exploring Arab and Middle Eastern communities in Latin America—whether Muslim (Sunni, Shia, Druze), Jewish, Christian, or secular—in Brazil, Mexico, Colombia, and Argentina. We chart flows of migration and immigration across time and space, driven by commerce and politics, bringing languages, dialects, religions, and ethnicities into contact and new combinations. We bring together anthropologists, historians, political scientists, literary theorists, art critics, poets, converts, and filmmakers. The symposium looks at the convergences and divergences between two seemingly remote regions and cultures, with attention to allegiances forged across the Global South. We particularly examine the articulation of a radical politics across different political, cultural, and historical contexts: liberation theologies, feminism, decolonization, Marxism, and socialism. We pay special attention to the expression of these ideologies through n
ot just political movements, but also art, music, media, film, literature, and poetry.
SPONSORS: Humanities Futures at the Franklin Humanities Institute, Asian and Middle Eastern Studies, Duke Center for Middle Eastern Studies, Duke Center for International Studies, Kenan Institute for Ethics-Religions and Public Life, Duke Islamic Studies Center,
Center for Latin American and Caribbean Studies, The Global Brazil Lab
LATINO ISLAM
INTRODUCTION 9:45 a.m.
Ellen McLarney, Asian and Middle East Studies, Duke University
Kiah Glenn, Center for Muslim Life, Duke University
10:00 a.m.
"Hajj del corazon: Islam Liberation Theology, Ethnopoetics, and Latinx Islam"
Antonio de Jesús López, Masters of Fine Arts in Poetry, Rutgers University
10:30 a.m.
"We Are All Moors"
Anouar Majid, Vice President for Global Affairs and Communications, University of New England
11 a.m.
"Latino Muslims in America"
Harold Morales, Philosophy and Religious Studies, Morgan State University
11:30 a.m.
Q&A and DISCUSSION
Respondent:
Rodrigo Adem, Post-Doctoral Research Fellow in Islamic Studies, Religious Studies, UNC
Noon to 1 p.m.
LUNCH
MIDDLE EAST & LATIN AMERICA
1:15 p.m.
INTRODUCTION
Patrick Duddy
Director, Center for Latin American and Caribbean Studies and former Ambassador to Venezuela
1:30 p.m.
OPENING KEYNOTE: "The Middle East and Brazil: From Third Worldism, to 'Emerging Power' Solidarity — and Now Back to Revanchist Neocoloniality?"
Paul Amar, Political Science, University of California, Santa Barbara
2:00 p.m.
"Redrawing Area and Ethnic Studies: Arab América across and Beyond the Hemisphere"
John Tofik Karam, Department of Spanish & Portuguese, University of Illinois, Urbana-Champaign
2:30 p.m.
"Guests of Islam: Transnational Leadership and the Institutionalization of Islam in Mexico"
Camila Pastor de María y Campos, División de Historia, Centro de Investigación y Docencia Económicas, Mexico
3:00 p.m.
Q&A and DISCUSSION
Respondent:
Christine Folch, Cultural Anthropology, co-director of the Global Brazil Lab, Duke University
3:30 p.m.
COFFEE BREAK
4:00 p.m.
PANEL
"The Algerian War in Argentina"
Steven Hyland, History, Wingate University
"Envisioning Middle Eastern Communities in Argentina: A Digital History Project"
Lily Balloffet, History, Western Carolina University
4:30 p.m.
CLOSING KEYNOTE: "Cuba's X-Files: Coloniality, Arabs, and Islam from the 19th Century to the Present"
Christina Civantos, Modern Languages and Literatures, University of Miami
5:00 p.m.
Q&A and DISCUSSION
Respondents:
miriam cooke, Braxton Craven Professor of Arab Cultures, Asian and Middle Eastern Studies, Duke University
Akram Khater, Khayrallah Chair in Diaspora Studies, History, North Carolina State
5:30 p.m.
CLOSING COMMENTS & PERFORMANCE
Walter Mignolo, Professor, Center for Global Studies and the Humanities, Duke University
The Ethnopoetic Imagination
Antonio de Jesús López, Masters of Fine Arts in Poetry, Rutgers University