SYMPOSIUM: Material Desire in the Digital Age
This symposium intends to probe more closely into how the complex processes of current modes of cultural production and reception involve the immediate and deep pasts. Technological obsolescence, the physical archive, and the contemporary artist's reengagement with pre-digital technologies are a few of the topics that will be explored during four panel sessions, featuring contemporary artists, whose new work exploits older or analog technologies, and theorists, curators, archivists, and academics whose scholarship considers the role of the analog in the twenty-first century.
September 7-8, 2017
MFA/EDA Carpentry Shop
1509 Campus Drive
Duke University
_________________
Thursday, September 7
3:30-5:30 PM
Panel: Image Machines
Josh Gibson, Duke University, Moderator
Tom Whiteside, Durham Cinematheque
Rick Prelinger, University of California, Santa Cruz
Tom Rankin, Duke University
6:00-8:00 PM
Kick-off Reception & Screening of FILMISTORY 3.2
Tom Whiteside & Durham Cinematheque at Full Frame (multi-projector 16mm program)
Friday, September 8
10:30 AM-12:30 PM
Panel: (Re)Invention in Motion
Raquel Salvatella de Prada, Duke University, Moderator
Eric Dyer, University of Maryland, Baltimore County
Megan Prelinger, Author, Cultural Historian, and Archivist
William Seaman, Duke University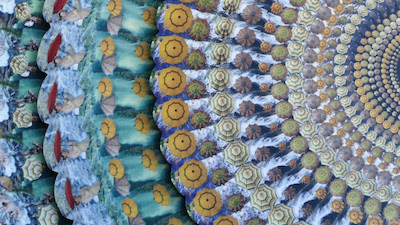 Eric Dyer, Shabamanetica #1 and #2, detail, 2017, steel, walnut, UV ink on aluminum, 98″ x 90″ x 48″ (each).
1:30-3:30 PM
Panel: Material Research & Haptic Media
Pedro Lasch, Duke University, Moderator
Kim Knowles, Aberystwyth University, Wales
Paula Gaetano Adi, Rhode Island School of Design
Shambhavi Kaul, Duke University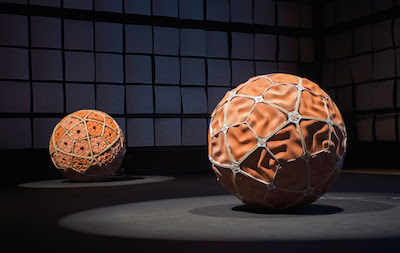 Paula Gaetano Adi, in collaboration with Gustavo Crembil, Mestizo Robotics, 2016, spherical robots (43″ diam. each) constructed in wood and fired clay, with an internal robotic pendulum system.
3:30-5:30 PM
Panel: The Poetics and Politics of Media Archeology
Mark Hansen, Duke University, Moderator
James Hodge, Northwestern University
Zoe Beloff, Queens College, NY
Mark Hansen, Duke University, Closing Remarks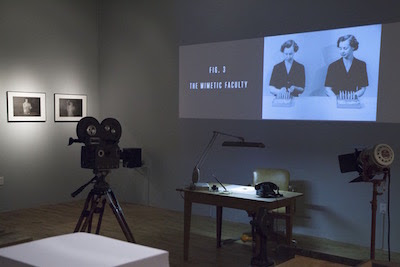 Zoe Beloff, The Infernal Dream of Mutt and Jeff, 2011, gallery installation that includes film, video, photographs, drawings and objects both new and archival. Cinematographer: Eric Muzzy. Cast: Kate Valk.
Co-sponsored by the Humanities Futures initiative @ the Franklin Humanities Institute, the Dept. of Art, Art History & Visual Studies, and the Masters in Fine Arts in Experimental & Documentary Arts.
(featured image, Daïchi Saïto, Engram of Returning, 2015, 35mm film.)